Digging deeper: Your options at maturity
When a company—or the industry it competes within—is at maturity, executive leadership must choose from a handful of options. Extend maturity, manage decline and exit, or renew.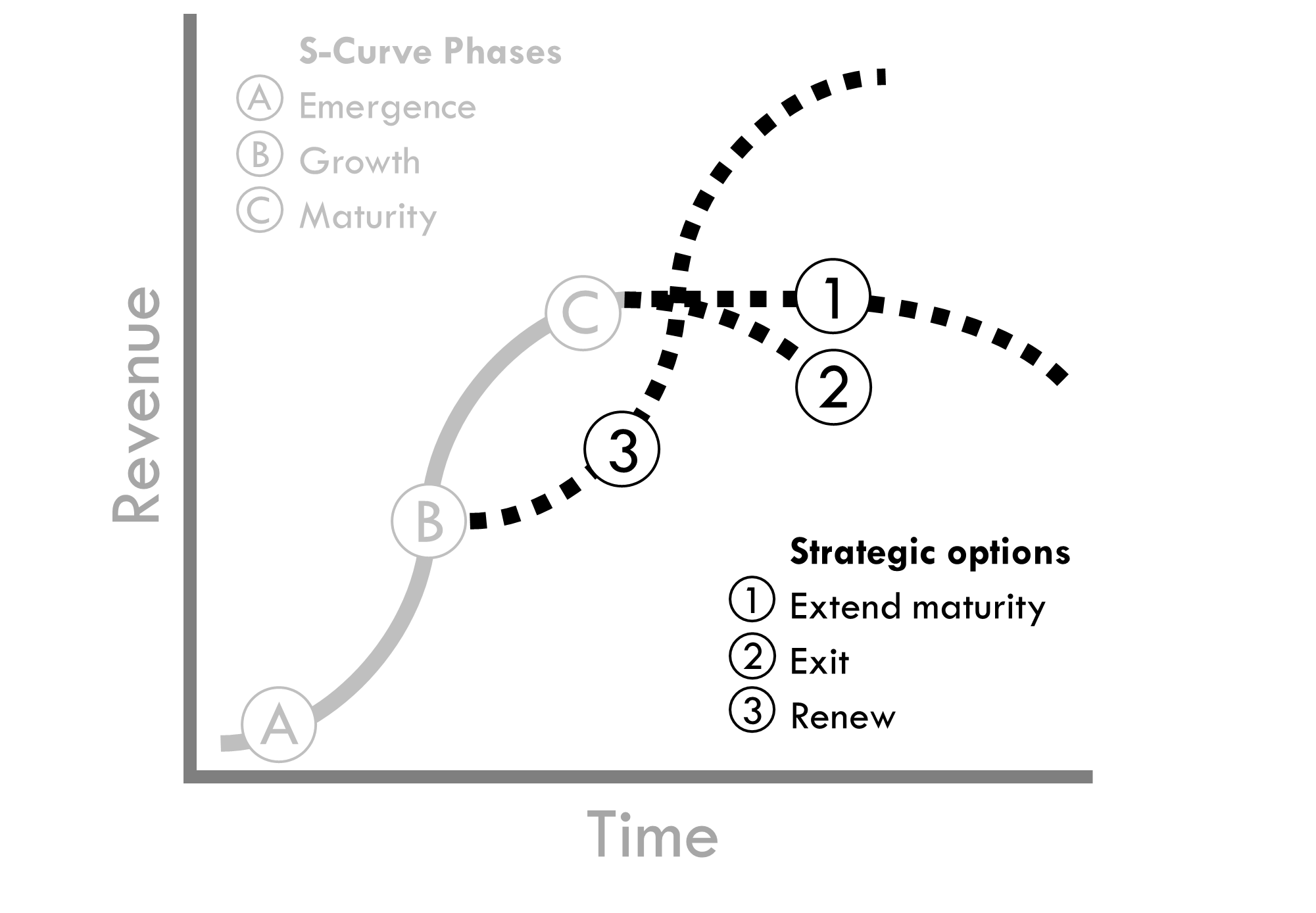 It's simple. Whether we are talking about a product, process, service, or business model, companies ultimately have three strategic options as they progress toward maturity: extend maturity, exit, or renew.
That's it. Anything else is a variation on these themes.
The most-pursued strategy is to extend maturity, with the weakest companies attempting to do so only by optimizing production while the most capable also invest in incremental product innovation.
If you seek only to extend maturity without exploring opportunities to renew, your competitive position is tenuous at best. Whether at the hand of existing participants in your industry, new entrants, or those bringing entirely new substitute concepts to the market, your days are numbered. Struggling to compete, you will drain the business financially, ultimately facing decline leading to an exit. It is only a matter of when you will either run the company into insolvency or sell it.
Having considered this, are you pleased with your strategy at maturity? Are you pleased with the strength with which you seek to extend maturity? Are you pleased with your attempts, if any, to renew your business? In the quiet of your thoughts, can you truthfully say that you gave all that was appropriately required with an honest and appropriately sustained effort?
If your answer to this last question is "no," trust that we understand. Strategic success requires a growth mindset. An increasingly aggressive growth mindset is needed the more you move from incremental innovation, characteristic of extending maturity, to the breakthrough innovation characteristic of renewal. There is something different about companies that have attempted and succeeded at innovation. They not only establish a robust capability to extend maturity but, most important, maintain a healthy tension between extending maturity and renewal. While it is easier and cleaner to ignore renewal, ultimately it is deadly. Those that have attempted and succeeded at innovation get it. You see it in the patterns of their behavior.
Digging Deeper: Your options at maturity is based on content appearing in Vojak & Herbst, No-Excuses Innovation: Strategies for Small- and Medium-Sized Mature Enterprises © 2022 by the Board of Trustees of the Leland Stanford Junior University. All rights reserved.